Newsletters
Do not forget to sign up for alerts
Juniors Newsletter, September 2013
Juniors Presentation Evening, Friday 6th September
Yes, this Friday is the Juniors presentation evening from 6-7.00pm. Venue to be confirmed. There will be a presentation of trophies and medals, some fun including a slide show of the juniors in winning form and party food.
Sally Booth would like any photos of the juniors you are willing to share for the slide show. They will only be used on the night and will not be for general circulation
U9 County play-off update
The North and South Herefordshire league winners play-off on the 4th August, for the county title was abandoned due to rain. Our team did a sterling job fielding against Colwall in the first innings despite the constant drizzle as it turned to a very steady downpour. The game has been rescheduled for Sunday 8th September at 2pm at Colwall. We all wish Sam, Jasper W, George, Millie, Ben, Charlie, Robbie, Henry, Marcus and Will good luck. (Hit it for six is the usual cry)
Winter Indoor Training (Winter 'nets')
Winter indoor training at Halo Leisure at John Masefield High School will be from Friday 21st February 2014. Each session is £2.
Juniors 6-7pm
Seniors 8.30-9.30pm

The junior training provides an ideal opportunity to learn and practice new skills. It especially gives those moving from soft ball cricket to hard ball cricket a chance to gain confidence with a hard ball.

The seniors cricket is open to all adult members as well as any parents who fancy having a go.

Annual Cricket Dinner
The Annual dinner is usually held at The Trumpet and is very well attended, making it a fun event. It includes a three course dinner, senior trophy presentation and raffle. It is generally an adult event and parents are most welcome, as well as those juniors deemed old enough by their parents to attend. (Can't guarantee the language though!) The date has been moved from September to November. The provisional date is 23rd November.
Annual General Meeting
All members and parents are welcome to attend the AGM. This is usually held the first or second Friday in the New Year.
Junior teams in 2014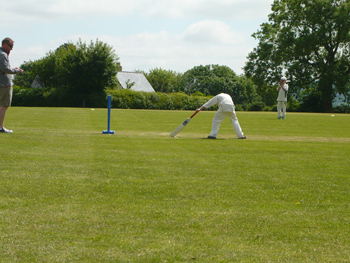 This year we fielded U9, U11 and U13 teams and it is planned to do the same in the 2014 season. The club would very much like to field an U15 team again but this will be dependant on the number of available players so cannot be confirmed at this stage. The age group is determined by the child's age as of 1st September 2013.

For all age groups there will be league games (outlined below), as well as ad hoc friendly matches organised between clubs to allow players, especially newer players, a chance to gain some real match experience.

Summer training will recommence at the beginning of the season on Friday evening at 6pm. Details of indoor winter training is detailed above and will start on 21st February.

Each age group has a coach assigned for training and matches, who also act as umpires during matches when possible. Further coaching support is provided by our other coaches when available: Alec, Stevie, Andy Rogers and Em. Willing parents are also welcome to help during the training sessions. The plan this year is to have a parent helper to work with each team coach to help organise the players for each match (team management), thus freeing up the coaches to concentrate on coaching. Parent volunteers are needed to take on these roles and will involve finding out player availability and ensuring the selected team know where to be when.

U9 play pairs cricket with a soft cricket ball. Pairs cricket allows each pair of batters to keep playing for three overs (18 balls), losing points when they are out instead of leaving the field as the older children do. Each child also bowls at least one over (6 balls). U9 league games will be on selected Sundays, with two games being played; usually starting at 10am and 12md, finishing early afternoon.
The coach will be Matt Richards with team management from Lee Richards

U11 play the first half of the season as for U9s with pairs cricket and a soft ball. The second half of the season is played with a hard ball and players bat as individuals. This means that when you're out, you're out and you leave the field. U11 league games are played on most Sunday mornings.
The coach will be Paul Cresswell. Parent volunteer needed to support Paul.

U13 is played with a hard ball and players bat as individuals, so when you're out, you're out. U13 league games are played on Tuesday evenings. Phil Avery will coach the U13. With Sian Turner no longer around a parent volunteer is needed to take on the team management.